Here are toolkits and resources to guide both individuals and parishes on the journey of encountering the Lord more deeply and sharing his love and joy with others.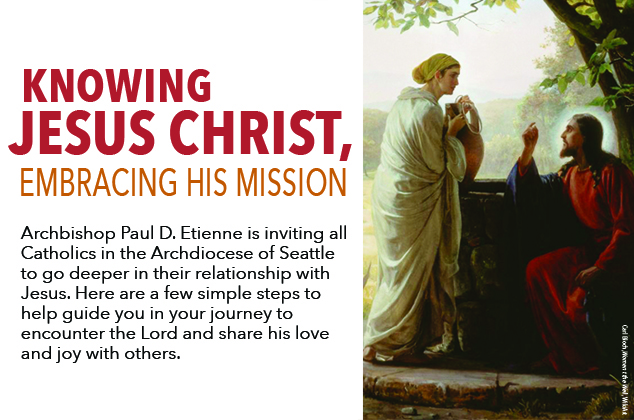 Archbishop Etienne is inviting all Catholics in the Archdiocese of Seattle to go deeper in their relationship with Jesus. While you can encounter Christ in many ways, here are a few simple steps to help guide you in your journey to encounter the Lord and share his love and joy with others.
Here are more ways to learn about the focus areas of encounter, accompaniment and living the gospel.
What does it mean to Encounter Jesus Christ?  Find answers, videos and more.
Find videos answering the who Jesus truly is and what Catholics believe about Jesus.
Watch Bishop Barron on having a personal relationship with Jesus.
Build a community that welcomes, cares, and accompanies others.
Explains Pope Francis call to walk with others with compassion and love.
Help youth and young adults in their hunger for love, truth and meaning.
Watch Father Mike Schmitz give tips on how we can share the Gospel with others
Series for ministry leaders on how to cultivate a living faith.